Browse Journals and Peer-Reviewed Series
ISSN 2377-1305
Overview
Now more than ever, those acting to deconstruct these oppressive systems rely on critical and new perspectives, new insight, community-based solutions, creative opportunities, and complex ways of thinking about the future of education. This journal aims to be a venue where this knowledge is shared. As such, the journal is unique in itself, and even furthermore is the only one seeking to interrogate higher education and student affairs solely through the utilization of critical social theories, perspectives, and frameworks. The journal process and content works to deconstruct systems of power within the publishing world and academia. Through open-access copyrights and open-review processes, we seek to problematize and dismantle the ownership of knowledge.
JCSHESA adheres to the BOAI definition of open access and users have the right to read, download, copy, distribute, print, search, or link to the full texts of these articles.
We welcome submissions across a range of topics that interrogate higher education and student affairs through the explicit use of critical social theories and frameworks. Please read through our submission guidelines for more information. If you have additional questions, visit our editorial board page to email an editor.
Announcements
Editor's Welcome
Welcome to AY 2019-2020! My name is Sydney Curtis (she/her). As the new Editor in Chief of JCSHESA I am thrilled to introduce our 2019-2020 Editorial Board! For the first time in JCSHESA history, our illustrious new Board members come from outstanding institutions across the United States. Make sure you're following @jcshesa on Instagram and Twitter to stay connect with us and browse our FREE, open-access volumes of critical scholarship via the taskbar to the left. Feel free to contact us at with any questions or ideas. We look forward to connecting with you!
CALL FOR SUBMISSIONS!
SPRING 2020 SPECIAL ISSUE
Title: Promoting Access and Critical Literacy: Working Within, Beyond, and Against the Academy
Abstract: The Journal of Critical Scholarship on Higher Education and Student Affairs announces a call for submissions for a Spring 2020 Special Issue titled: Promoting Access and Critical Literacy: Working Within, Beyond, and Against the Academy. We view critical literacy as a way of coming to understand and acknowledge that experience is contextually embedded in systems of power, privilege and oppression often imposed on subjects (Anderson & Irvine, 1993). To promote critical literacy we must actively interrogate the ways that knowledge is produced, written, and distributed, and more importantly, actively invite and make space in academia for non-traditional epistemologies to be centered in knowledge production, rather than pushed to the margins as subjects of study. The broad goals of this Special Issue are to legitimize epistemologies that are not always privileged in academic spaces, to promote access to critical scholarship, and to continue to question assumptions of who can create and interact with critical scholarship (Bhattacharya, 2016). We seek collaborative submissions by two or more authors. In particular, we encourage the authorship and involvement of persons from communities outside of higher education or traditional scholarly arenas.
More information: https://tinyurl.com/t2hxb9z
We look forward to your submission!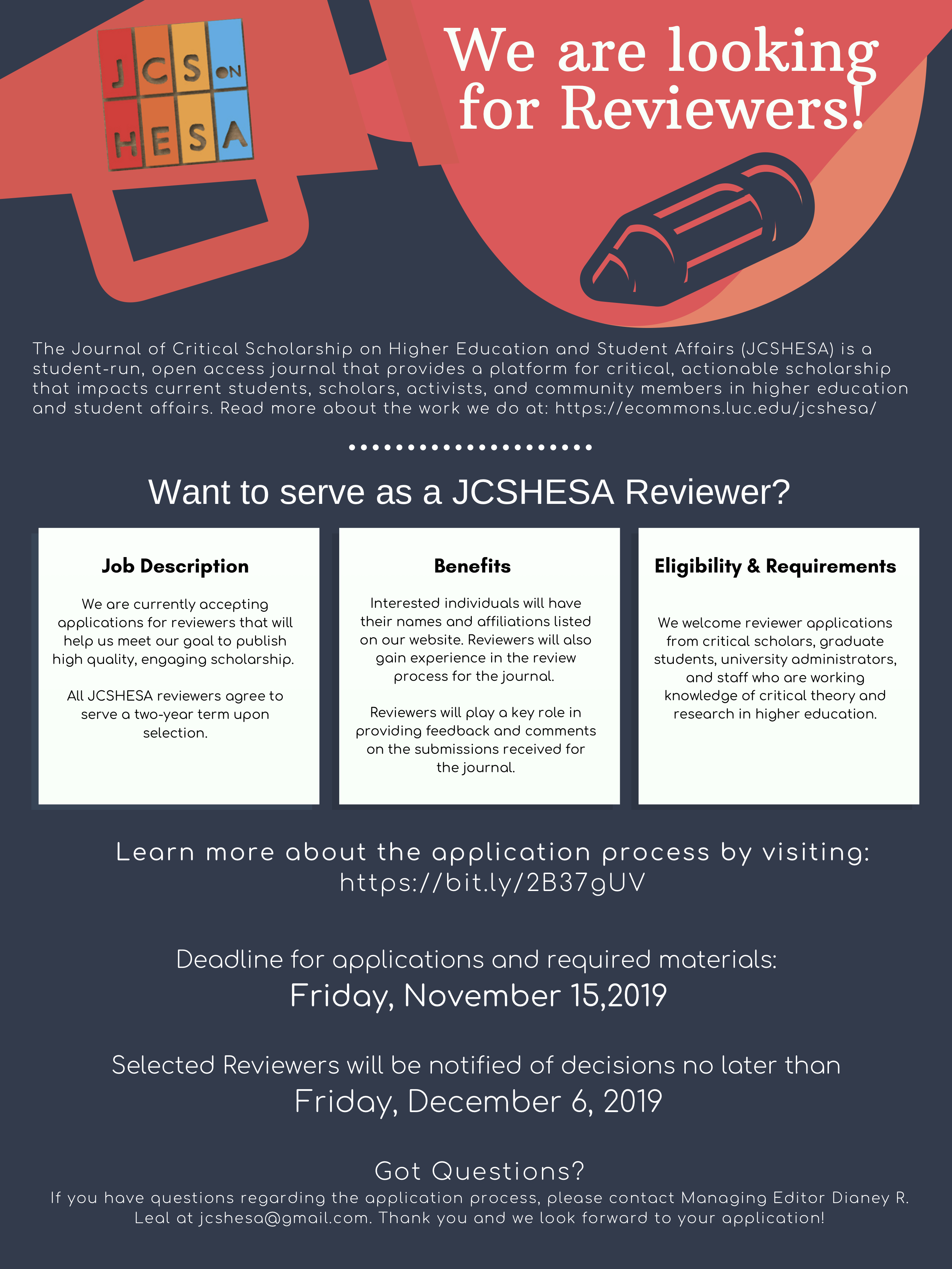 The Journal of Critical Scholarship on Higher Education and Student Affairs (JCSHESA) is a student-run, open access journal that provides a platform for critical, actionable scholarship that impacts current students, scholars, activists, and community members in higher education and student affairs. In our mission and purpose, we strive to provide a unique venue for critical research and discourse that promotes social justice in higher education.
We are currently accepting applications for reviewers that will help us meet our goal to publish high quality, engaging scholarship. All JCSHESA Reviewers agree to serve a two-year term upon selection. Interested applicants should submit a CV and cover letter detailing your qualifications, research interests, and related experiences to jcshesa@gmail.com. Interested applicants must also complete the 2019-2021 JCSHESA Reviewer Profile form at https://tinyurl.com/jcshesarevpro19. Graduate students and scholars with a familiarity of critical theories and frameworks are encouraged to apply!
The deadline for applications, including submission of the CV, cover letter, and Reviewer Profile form is Friday, November 15, 2019. All applicants will be notified of decisions no later than Friday, December 6, 2019.
If you have questions regarding the application process, please contact Managing Editor Dianey R. Leal at . Thank you and we look forward to your application!
JCSHESA is housed at Loyola University Chicago in the School of Education's Higher Education program.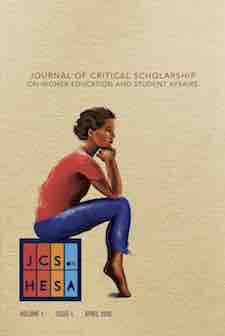 Welcome to the journal Loyola Undergraduate Research in Sustainability.