Editors
Cobretti D. Williams, Editor in Chief
Cobretti is a third-year doctoral student in the Higher Education program at Loyola University Chicago. In addition to his duties as a Research Assistant, Cobretti also serves as an Editorial Assistant for the Journal of Student Affairs and Research Practice. His research interests broadly explore critical, queer and feminist theory and practice in higher education. Cobretti is deeply passionate about issues of social justice and liberation. In his spare time, Cobretti likes to read, listen to music, and travel around the world (whenever possible).
Curtis Main, Senior Layout Editor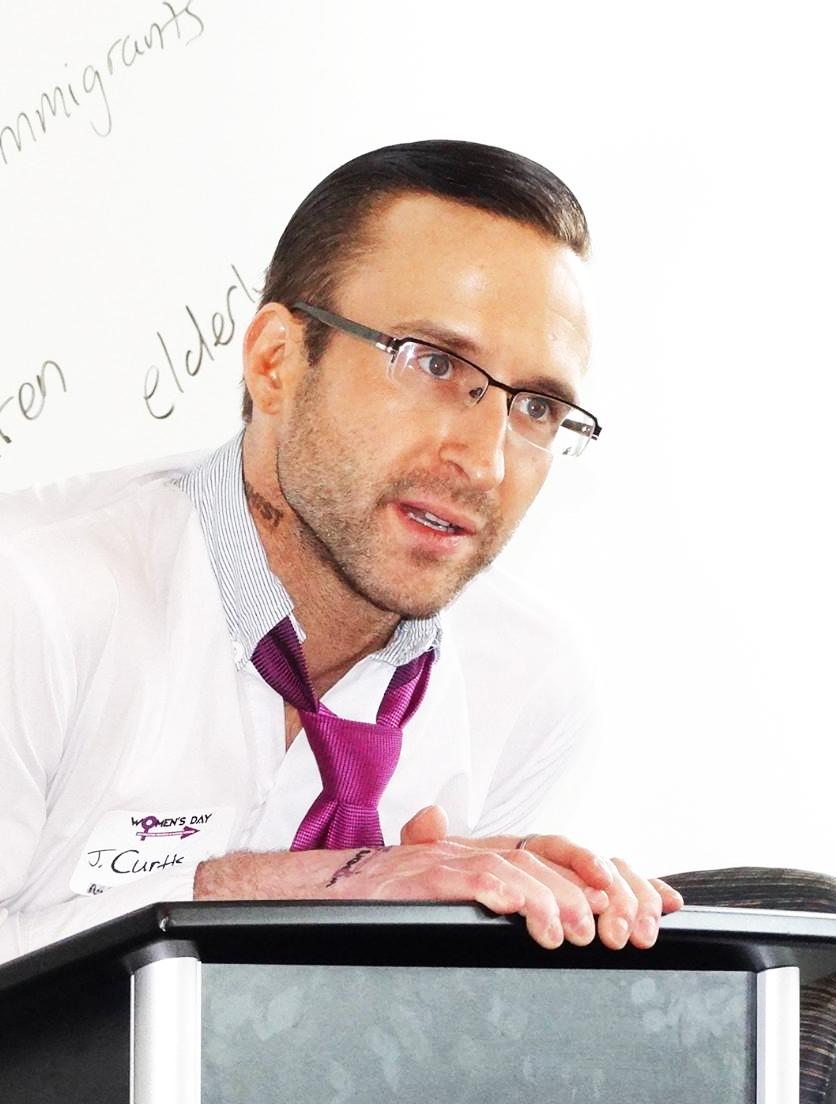 Curtis is Web Content Developer for the Division of Student Development in the Office of the Vice President at Loyola University Chicago. Curtis loves everything tech, graphic design, and justice related, receiving their MA in Women's Studies and Gender Studies at Loyola, while currently finishing their MS in Computer Science from Loyola. While Curtis' career is being built in Chicago, their heart lies in NC, where they grew up and graduated from UNC- Chapel Hill. Curtis' interests include social justice in increasingly digital ways, such as through JCSHESA and BROAD magazine.
Ashley Brown, Associate Editor
Ashley is a second-year doctoral student in Higher Education at Loyola University Chicago. Prior to returning to school, Ashley gained professional experience in residential life, first-year seminar development, and men and masculinities initiatives. Currently, Ashley serves as a research assistant in the School of Education, exploring the impact of non-standard STEMM employment on college graduates as well as the influence of institutional stratification and prestige on research collaboration activities. Through her own research, Ashley seeks to understand the intention and impact of college men and masculinities scholarship and practice.
Emely Medina, Associate Editor
Emely is a 4th year doctoral student in the Higher Education Program at Loyola University Chicago. Before moving to Chicago to finish my studies I worked at the University of Puerto Rico's Vice-presidency of Students' Affairs. Research and social justice have been the common denominators through my academic and professional experiences. Since my undergraduate years what has moved me to learn more about social sciences and research methodology is seeing the need to justify social changes. Understanding how social programs work and what influences them allows me to formulate a clearer path to change. In the short term I plan to get more experience in evaluation, this year I will be interning in a research firm. During this year I will be working toward a certificate in organizational evaluation, with the aim of making my thesis an evaluation in higher education.
Katherine Cho, Associate Editor At-Large
Katherine S. Cho is a doctoral student in the Higher Education and Organizational Change Division of the Graduate School of Education and Information Studies at the University of California, Los Angeles. Her research agenda spans student activism, race(ism)based campus protests, organizational theory, Critical Race Theory, and institutional accountability. Concurrently, she is a research analyst at the Higher Education Research Institute. Prior to UCLA, Katherine managed student success and leadership programs in New York City. She holds an M.A. in Sociology and Education from Teachers College, Columbia University and a B.A. in Public Policy Studies from Duke University. Outside of her research and work, Katherine serves as the chair of a Korean-American technical and leadership conference, and is very focused on growing her cactus she recently acquired.
Aaron James Parayno, Associate Editor At-Large
Aaron James Parayno is a first year doctoral student in Higher Education at the University of Massachusetts Boston. He currently serves as the Assistant Director of the Asian American Center at Northeastern University. He also serves on the national leadership team of the NASPA Asian Pacific Islander knowledge community. He has a B.A. in History, and M.A. in Higher Education and Student Affairs from Boston College. His research interests include understanding the experiences of Asian American staff, students, and faculty in higher education; and exploring Pilipinx American identity. When he is not working or studying he enjoys cooking, and baking for family and friends.
Antonio Duran, Associate Editor At-Large
Antonio Duran is a doctoral candidate in the Higher Education and Student Affairs program at The Ohio State University. Prior to arriving at OSU, Antonio acquired his master's degree in Student Affairs and Higher Education at Miami University. His research interests include employing intersectional frameworks to center the experiences of queer and transgender students with multiple marginalized identities. His most recent publications are featured in the Journal of College Student Development, Journal of Diversity in Higher Education, and Journal of Curriculum and Pedagogy. Antonio is passionate about using teaching, research, and policy to advance equitable practices and outcomes for historically underserved populations in higher education. As an aspiring faculty member, Antonio hopes to contribute to the creation of socially just campus environments, especially for collegians with multiple marginalized identities.
Jessica Avila-Cuevos, Editorial Assistant
Jessica is a second-year, part-time M.Ed. student in the Higher Education program at Loyola University Chicago. She currently serves as a Regional Representative for the University of Illinois at Urbana-Champaign. She has been in the admissions field for over six years where she has worked in several institutions within the State of Illinois. As a product of the Chicago Public Schools and first-generation college student, Jessica has a passion for serving underrepresented youth, including undocumented students where her work has shown through various efforts related to college access. She serves in multiple committees within the Illinois Association for College Admission Counseling (IACAC) and co-chairs the Mentorship Committee and the Sharing the Dream Conference Committee, which is the first and only statewide conference that brings together educators and allies who work with and support undocumented students. She is also a member of the Chicago Area Regional Representative (CARR) Network and the Illinois LAtino Council on Higher Education (ILACHE). Most recently her research interest involves racial battle fatigue related to the cultural taxation of professionals - in particular women of color - as they navigate toward upholding leadership positions within enrollment management in higher education. In her spare time, Jessica enjoys running, traveling, trying out different types of vegetarian/vegan restaurants in Chicago, and spending quality time with her family, friends, and rescued fur babies.
Breanna Hyde, Editorial Assistant
Bree Hyde is a second-year M.Ed in Higher Education student at Loyola University Chicago. While attending Indiana University of Pennsylvania from 2013-2017, Bree majored in Sociology and engaged in various student leadership opportunities that led her to higher education and student affairs. She currently works for the University of Chicago Booth School of Business as Manager, Faculty and Program Operations. Additionally, Bree volunteers on Dr. Demetri Morgan's Mapping Campus Climate Research Team, and her research interests include the identity development of first-year students and the impact of student organizations on personal and professional development in higher education. In her free time, she enjoys hanging out with her dog, live music, and searching for Chicago's best donut.
Hanna Seferos, Editorial Assistant
Hanna is a second year Master's student in the Higher Education program at Loyola University Chicago. She is from Seattle, Washington and obtained her B.A. in Human Services and Political Science with a minor in Diversity in Higher Education at Western Washington University. It was at Western, where she fell in love with Higher Education and gained a passion for research devoted to improving the field. Currently, she serves as a Program and Office Support Assistant for the Evening and Weekend MBA Program Office at the University of Chicago's Booth School of Business. In addition to her current role, she also works with the orientation and academic coaching programs at Loyola. A true Seattleite at heart, Hanna loves the rain, coffee, and being outside.
Shelby Hearn, Editorial Assistant
Shelby is a second year masters student at Loyola University Chicago in the Higher Education program. She graduated from the University of West Georgia with a B.A. in English with a minor in Gender & Sexuality Studies. She currently has an assistantship at Northwestern University in the office of Student Organizations & Activities and an internship with NASPA on the NASPA IV-East 2018 Regional Conference Planning Committee. Her research interests include the experiences and retention of queer identified college students, and the application of queer theory to higher education practices.
Dr. Blanca Torres-Olave, Journal Advisor
Dr. Blanca Torres-Olave is an assistant professor at Loyola University Chicago, where she teaches in the Higher Education and International Higher Education programs. Her domestic research is focused on the reorganization of academic labor in the knowledge economy, including its impact on collaboration/competition networks, and the growth of precarious and contingent employment in scientific work. Her international research agenda is concerned with the complex relationships that university students and faculty, especially those that engage in different forms or mobility, establish with the spaces they inhabit. Her work seeks to explore how university actors belong simultaneously to multiple social worlds and play multiple social roles at the local, national, and global levels. In addition to serving as faculty advisor for JCSHESA, Blanca is Chair for the Council of International Higher Education (CIHE) and ex-officio member of the Association for the Study of Higher Education Board of Members.
Advisory Council (2014-2017)
Dian Squire, Loyola University Chicago, E-mail, Twitter
Dian is a Ph.D candidate in Higher Education at Loyola University Chicago. Previously he was the Assistant Director of Orientation and New Student Programs and the Coordinator of The One Project--a first year experience program for LGBTQA students--at the University of Maryland College Park. He received his B.S. in Secondary English Education at Florida State University and his M.A. in Educational Policy and Leadership Studies with a concentration in Higher Education at the University of Maryland College Park. His research interests include diversity, equity, and justice in graduate education.
Jenny Betz, GLSEN, Twitter
Jenny Betz is the Senior Education Manager at the Gay, Lesbian & Straight Education Network (GLSEN) where she develops resources and professional development for K-12 educators across the US to make schools safer and more respectful for all students, regardless of sexual orientation and gender identity and expression. Before joining GLSEN, Jenny worked for the Anti-Defamation League, L.A. Gay & Lesbian Center and Ally Action, providing anti-bias training, educational programming and community events designed to give schools and communities the tools to create bias-free environments. Jenny is also a Board Member of the International Bullying Prevention Association. A native of the San Francisco Bay Area, she earned her Bachelor's Degree in English from St. Mary's College and her Master's Degree in Gender/Cultural Studies from Simmons College.
Raja Gopal Bhattar, University of California Los Angeles, Twitter
Raja Bhattar is a community organizer, social justice educator, speaker and author. He currently serves as the director of the LGBT Campus Resource Center at UCLA and has previously worked at the University of Vermont, Champlain College, Semester at Sea, and the University of Redlands in various positions focusing on diversity and social justice initiatives. He holds a Master's degree in Higher Education and Student Affairs Administration from the University of Vermont (Burlington, VT) and completed his Bachelors in Psychology and Spanish Literature at Boston University (Boston, MA). Raja is a regular presenter and national leader on LGBT policy and advocacy. He has been featured in India Abroad, the Advocate, Huffington Post, and other publications.
Laura M. Bohorquez, United We Dream Network
Laura was born in Mexico City, moved to the U.S. at the age of 4, and was raised in Brewster, Washington, a small rural agricultural town in Washington State. Growing up Bohorquez joined her parents in immigrant rights rallies and in the packing sheds where she and her community worked. Laura is a recent first generation graduate from Loyola University Chicago's School of Education. At Loyola she served as the graduate assistant for the Department of Student Diversity and Multicultural Affairs where she piloted the Safe Space and Ally Training Initiative for Undocumented Students. Prior to graduate school, Laura co-created the Raza Latina Studies Minor at WWU and graduated as the "Outstanding Graduate from the American Cultural Studies Department. Laura's commitment towards the educational equity, respect, and dignity for immigrant communities continues to fuel her trajectory to change the policy and practices that influence the lives of immigrant communities.
Erik Glenn, Chicago Black Gay Men's Caucus, Twitter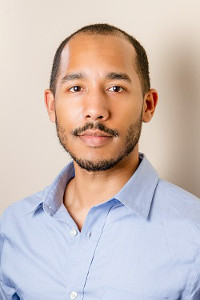 With over eight years in the HIV/AIDS field, Erik has dedicated his career to the cause, supporting his friends, family, and community members affected by the HIV epidemic. Today, he works as Program Manager for the Chicago Black Gay Men's Caucus where he leads the agency' s three-tier strategy of HIV Prevention, Community & Leadership Development, and Advocacy. Erik is a recent graduate of University of Chicago's School of Social Service Administration.
Ramona Gupta, Columbia College Chicago, Twitter
Ramona Gupta is the Coordinator of Asian American Cultural Affairs at Columbia College Chicago, where she serves as advisor to the Asian Student Organization, Muslim Student Association, and One Tribe. She is also the advisor for the One Tribe Scholars program, a student social justice leadership initiative focused on multiculturalism and inclusion. A community educator and activist, she previously worked and volunteered with a number of nonprofits focused on education and/or the Asian Pacific American community in Chicago. Ramona received bachelor's degrees in Political Science and Sociology from the University of Illinois and a master's degree in Public Service Management from DePaul University. She currently serves on the core organizing team of the South Asian Progressive Action Collective (SAPAC), a volunteer-run collective that strives to raise a South Asian voice for justice and equality. She welcomes ALL opportunities to connect and work toward justice together.
Dr. Bridget Turner Kelly, Loyola University Chicago
Dr. Bridget Turner Kelly is Associate Professor of Higher Education at Loyola University Chicago. Dr. Kelly's scholarship is focused on marginalized populations in higher education; more specifically, she studies the experiences of students of color on predominantly White campuses, women and faculty of color at research universities, and how all students can become multiculturally competent educators. She has authored articles in peer-refereed journals of high national reputation and also presented numerous refereed papers at national conferences. She was a 2013 Diamond Honoree for College Student Educators International (ACPA), awarded the NASPA IV-East Outstanding Contribution to Student Affairs through Teaching in 2011, recognized as an Emerging Scholar by the ACPA in 2005, and received the Peggy R. Williams Emerging Professional Award in 2004 from the Office on Women in Higher Education, a division of the American Council on Education.
Dr. Chris Linder, University of Georgia, Twitter
Dr. Linder's research and teaching interests include creating and maintaining inclusive campus environments. Her previous work has explored race in graduate and undergraduate classrooms and the intersections of race and gender in activist spaces on campuses. Currently, she is engaged in a research project exploring undergraduate women's attempts to navigate multiple contradictory messages about gender through an intersectional lens.
Dr. Christa Porter, Michigan State University, Twitter
Dr. Christa J. Porter is a Fixed Term Assistant Professor in Higher, Adult, and Lifelong Education (HALE) and Coordinator of the Student Affairs Administration Masters program at Michigan State University. Her research interests consist of the socialization processes, achievement, and identity development of Blacks throughout the educational pipeline, with a particular focus on Black undergraduate women. Dr. Porter received her Ph.D. in Counseling and Student Personnel Services and an Interdisciplinary Qualitative Research Studies Certificate at the University of Georgia.
Kamaria Porter, University of Michigan, Twitter
Kamaria B. Porter is a doctoral student in the Center for the Study of Higher and Postsecondary Education at the University of Michigan. After graduating from the University of Notre Dame with B.A. in History with a concentration of US Labor History, she worked as a community organizer with the Industrial Areas Foundation. Focusing on increasing affordable housing and health care access, she recruited and trained leaders from religious institutions to build local campaigns, organize public assemblies, and launch non-partisan electoral efforts. At Loyola University Chicago, she became active in sexual assault prevention and support programs as a survivor advocate. Kamaria's research interests include sexual health and violence prevention, diversity experiences, and moral development. As an avid film and television watcher, she wants to interrogate ways media supports and challenges systems of oppression to promote dialogue and action.
Ernie Sanders, Community Activist and Alumnus, Twitter
Ernest Sanders is the Founder and Managing Partner for COMEUNITY Based Solutions. Sanders is a business professional of more than 30 years and has worked on national causes to reduce recidivism, enhance middle school education and social services, and promote digital excellence in lower income populations. Sanders received his Bachelors Degree from Loyola University of Chicago, majoring in Political Science. He is a community activist and strategist, and also candidate for a Masters Degree at DePaul University's School for New Learning Professional Integrated Studies with a focus on Comprehensive Community and Economic Development. Sanders also attended Harvard University's Divinity School and earned a certification in Faith Based Community and Economic Development. He also serves on board several boards and volunteers with multiple non-profit organizations. In each, he infuses concepts of community and economic development into curriculum, programs, etc., thus creating best practices.
Sarah Smith, University of Maryland College Park, Twitter
From the southernmost part of Chicagoland, Sarah completed her undergraduate career at Vanderbilt Univ. where she spent her time in LGBTQI Life and Campus Recreation. Sarah is a Master's student at the University of Maryland - College Park in the Student Affairs program. Her interests are in learning/education, (women's) sports, and social justice.
Dr. David Stovall, University of Illinois Chicago
David Stovall, Ph.D. is Associate Professor of Educational Policy Studies and African-American Studies at the University of Illinois at Chicago. Currently his research interests include Critical Race Theory (CRT), school/community relationships, youth culture and community organizing. He is also a volunteer social studies teacher at the Greater Lawndale High School for Social Justice, where he was a member of the design team.